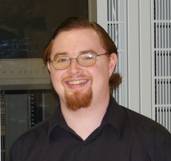 Where to begin? Let's start at the beginning. I was born on October 31st, 1978, at Willamette Falls Hospital in Oregon City, Oregon. I lived in Gladstone, OR (a town of 10,000 just north of Oregon City, or for those of you who don't where that is it's a few miles south of Portland) until after I graduated from Gladstone High School in 1997. From 6th grade until I graduated from high school, I played percussion in the Metropolitan Youth Symphony; I also played percussion in the GHS band and sang, played keyboard bass and played drums (not all at the same time!) in the GHS Swing Choir.
In fall of '97 I moved to Phoenix, AZ so I could attend DeVry, majoring in Computer Information Systems. In summer of '98 I dropped out of DeVry after deciding that DeVry was charging me entirely too much money not to be teaching me what I really wanted to know while making me wade through stupid business stuff I had no interest in. I got a job in technical support/customer service at Inficad Communications, learning a lot more than I was at DeVry. I tried going back to school at Glendale Community College to take some computer programming classes, but it turned out I didn't have enough time to both take classes and do homework, partially because of how long it took me to get there (from work to school took an hour and a half on the bus). So I dropped out of GCC as well.
After about a year at Inficad, I was hired to do system administration by a new start-up ISP; unfortunately that eventually fell through. So I did various temp jobs, and finally wound up working for Earthlink doing broadband technical support, which I did for nine months.
In the summer of 2001, I moved back to Oregon and my parents moved to Guatemala. They had been thinking of traveling, and my mother decided that the best way to do it would be for her to get a job somewhere, so somebody else could pay for the travel expenses. She sent applications all over the world, and landed a job teaching music at an American international school in Guatemala City. A year later my father passed away suddenly, which was quite a shock to all of us.
I now do freelance computer work, and I work for the Metropolitan Youth Symphony as their percussion manager.